Heavy Duty Towing in Greenville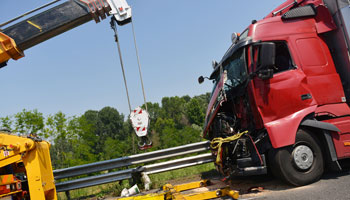 At Wallace Towing & Recovery of Greenville, we offer heavy duty towing that is available to tow a range of larger vehicles and other equipment. We can haul tractors, buses, dump trucks, emergency trucks, trailers, and large trucks and SUVs. Our large tow trucks have the capability to carry up to 50 tons, as well as rotate them 360 degrees in order to fit just right on the flatbed. The towing equipment we use to carry largescale vehicles and equipment is dependable, safe, and fast.
Our team of dispatchers and mechanics is trained to respond to your call immediately, ensuring the incident at hand will be recovered quickly and with top professional service every time.
Wallace Towing & Recovery offers emergency services as well, meaning we are prepared and equipped to assist with rollovers, extractions, air cushion recovery, and other large mishaps that may occur with heavy duty vehicles or trucks.
If you require heavy duty services, our tow truck company is the one to call on. Upon dispatch, we will send the proper truck out to the location of your mishap and get started right away. We can take your vehicle to a repair shop or back to where you house your large vehicle or equipment. Wallace Towing & Recovery does it all! Give us a call if you need heavy duty towing today.